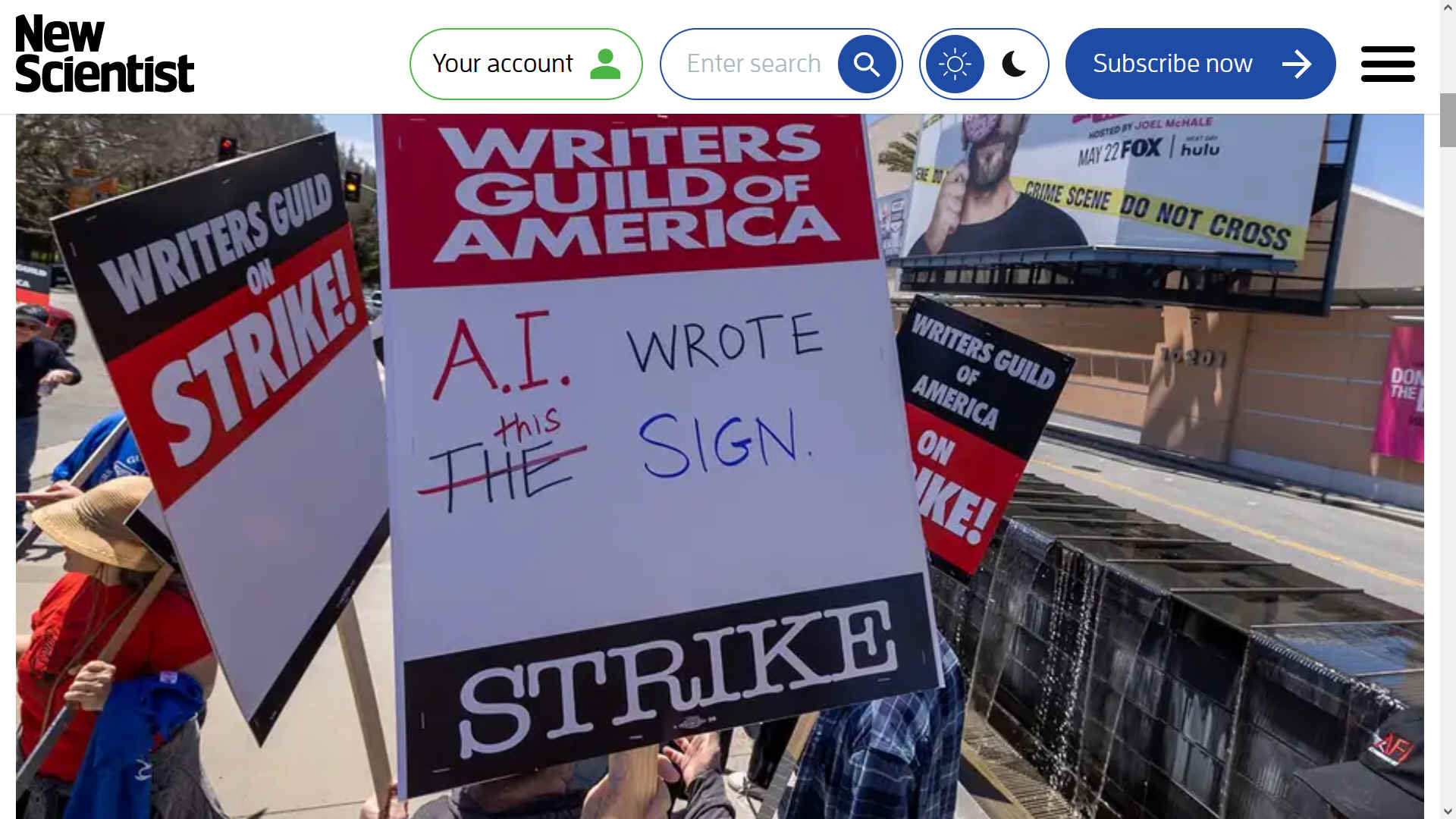 AI COMPUTER SCRIPTS HUMANS Vs MACHINES
ATLANTIS STORY MAP & OPERATION HOMEPAGE
NEW SCIENTIST 15 MAY 2023 - WHY USE OF AI IS A MAJOR STICKING POINT IN THE ONGOING WRITER'S STRIKE

The writers' strike was initially about compensation in an era of streaming services. Now the role of AI has also become a major point of contention in negotiations between the Writers Guild of America and companies such as Disney and Netflix.

Could AI soon write your favourite Hollywood film or streaming show? That concern is one of the issues driving a US film and television writers' strike that has halted many productions nationwide.

The Writers Guild of America (WGA), a labour union representing writers who primarily work in film and television, began the work strike this month after reaching an impasse in negotiations with the Alliance of Motion Picture and Television Producers that represents the US entertainment industry. Part of the disagreement revolves around a WGA proposal to ban the industry from using AIs such as ChatGPT to generate story ideas or scripts for films and shows – the union wants to ensure that such technologies do not undermine writers' compensation and writing credits.

"The fear is that AI could be used to produce first drafts of shows, and then a small number of writers would work off of those scripts," says Virginia Doellgast at Cornell University in New York.

The WGA has also proposed that any scripts covered by the union's collective bargaining agreement cannot be used to train AIs. There has already been broader resistance against tech companies scraping online content for free to train large language models and other generative AIs on text and images originally created by humans.
Hollywood studios on the other side of the negotiating table include companies such as Walt Disney Studios and Warner Bros. Studios, along with streaming services such as Netflix, Apple TV+ and Amazon Prime Video. The industry rejected the initial WGA proposal and countered with an offer to hold annual meetings to discuss new technological changes.

"This is a pretty weak commitment – the writers would have little power in those discussions to influence how the technologies are used," says Doellgast. "The studios don't want to negotiate hard limits on how they will use AI."

The Alliance of Motion Picture and Television Producers issued a statement on 4 May saying that "AI raises hard, important creative and legal questions for everyone". It also noted that the previous and now-expired agreement with the WGA already defined a writer as a "person" and would exclude AI from receiving a writing credit.

The writers' strike comes at a time when the separate union representing actors and other performance artists is also looking to regulate possible uses of AI, including using AI to simulate actor performances or digitally edit filmed facial expressions and sync new audio to people's lips.

"The WGA's demands are a bellwether that workers don't intend to stand for companies using AI to justify devaluation of their craft and expertise," says Sarah Myers West at the AI Now Institute in New York. "The WGA is pointing out an important question – who is benefiting from the development and use of these systems, and who is harmed by them?"


Workers in other industries – such as accounting and IT support, customer service and software programming – are already seeing companies use AI to automate parts of their jobs and sometimes even to replace human workers. By comparison, writers "have a strong union backing them up and solidarity from other creative workers in their industry", along with higher individual bargaining power and in-demand skills, says Doellgast.

Beyond the AI issue, the writers' strike is also focused on how the shift in viewing habits from TV broadcast networks to streaming services has impacted writers' income and job security, says Doellgast. For example, writing jobs are now typically based on shorter seasons with fewer episodes for shows produced by platforms such as Netflix or Amazon Prime Video.

Companies have often won out in historical labour conflicts over technological automation of human work. But there have been cases where workers stood their ground: for example, in the 1960s unions representing US dock workers negotiated for employment security against tech-driven downsizing and for a pension fund for early worker retirement.

It may be difficult to stop the eventual use of AI in creative fields like TV and filmmaking. But in the case of the writers' strike, an amicable agreement granting the WGA more control over how AI is used in scriptwriting could ensure that writers reap some benefits, even if part of their work gets automated, says Simon Johnson at the Massachusetts Institute of Technology.

"The short-term key is who will control AI – labour or capital," says Johnson. "If capital controls it, labour will lose big time and fast."
By Jeremy Hsu
https://www.newscientist.com/author/jeremy-hsu/
https://www.newscientist.com/article/2373382-why-use-of-ai-is-a-major-sticking-point-in-the-ongoing-writers-strike/

[We ask if viewers will watch computer generated films, if they are advised of the fact, and should such artificially made entertainment contain a warning, telling people if the movies or series they are watching is machine made, or the creative work of humans? No humans were harmed - made jobless - in the making of this film.]
ATLANTIS: THE LOST CITY OF
CHAT GPT BY OPEN AI - ARTIFICIALLY INTELLIGENT SCRIPT WRITING MAN Vs MACHINES
CLAYMORE - NORTH SEA OIL RIG, OCCIDENTAL, ELF AQUITAINE, TALISMAN & REPSOL
CORONATION DAY PROTEST ARRESTS, METROPOLITAN POLICE, 6TH MAY 2023, SKY NEWS
DOUNREAY - NUCLEAR POWER & MOD TESTING STATION, RADIOACTIVE LEAKS
GOD SAVE US ALL - FROM THE KING BRITAIN DESERVES, THE GUARDIAN 3RD MY 2023
JUST STOP OIL - LONDON CLIMATE PROTESTORS 2022-2023, SUELLA BRAVERMAN DENIAL OF RIGHTS
LIAM HOLDEN, WATERBOARDING, BRITISH ARMY GUILTY OF TORTURE, GUARDIAN MARCH 2023
NATIONAL GEOGRAPHIC - 27 MAY 2021 - CROWD CONTROL, PRITI PATEL'S POLICE STATE
NAZI GERMANY - SPECIAL NAVAL OPERATIONS
NAZI GOLD - LOST TREASURES, ADOLF HITLER'S $20 BILLION, BUNKERS, TRAINS, SHIPS, THE SUN 2021
NHS COVID CONTRACTS - MEDPRO FAST TRACK VIP PAYMENTS MICHELLE MONE OFFSHORE £29M
NWC - NATIONAL WHISTLEBLOWER CENTER, FOSSIL FUEL FRAUD
OPERATION ATLANTIS - J5 TAX EVASION PROBE, EURO PACIFIC INT. BANKING, PUERTO RICO
PC DAVID CARRICK - SERIAL RAPIST, METROPOLITAN POLICE - 16 JANUARY 2023, THE GUARDIAN
PIPER ALPHA - OCCIDENTAL PETROLEUM CALEDONIA RIG EXPLODED 6 JULY 1988 KILLING 165 MEN
POLAR JOURNAL - RUSSIAN NUCLEAR SUBMARINE GRAVEYARD, KARA & NORWEGIAN SEAS
SIZEWELL - A B & C NUCLEAR POWER STATIONS, SUFFOLK, ENGLAND
THE GUARDIAN - LOST CITY OF ATLANTIS RISES AGAIN TO FUEL A DANGEROUS MYTH 27-11-22
THE GUARDIAN - HMS VANGUARD NUCLEAR REACTOR CORE GLUED BOLT HEADS FEB 2023
TITANIC - OCEANGATE EXPLORATIONS MISSING BILLIONAIRE SUBMERSIBLE 21-22 JUNE 2023
WETHERSPOONS - ASTUTE HUNTER-KILLER TRAINING MANUAL FOUND IN PUB TOILET APRIL 2023
WGA STRIKES - WRITERS GUILD OF AMERICA: POOR PAY & USING AI TO REPLACE PEOPLE MAY 23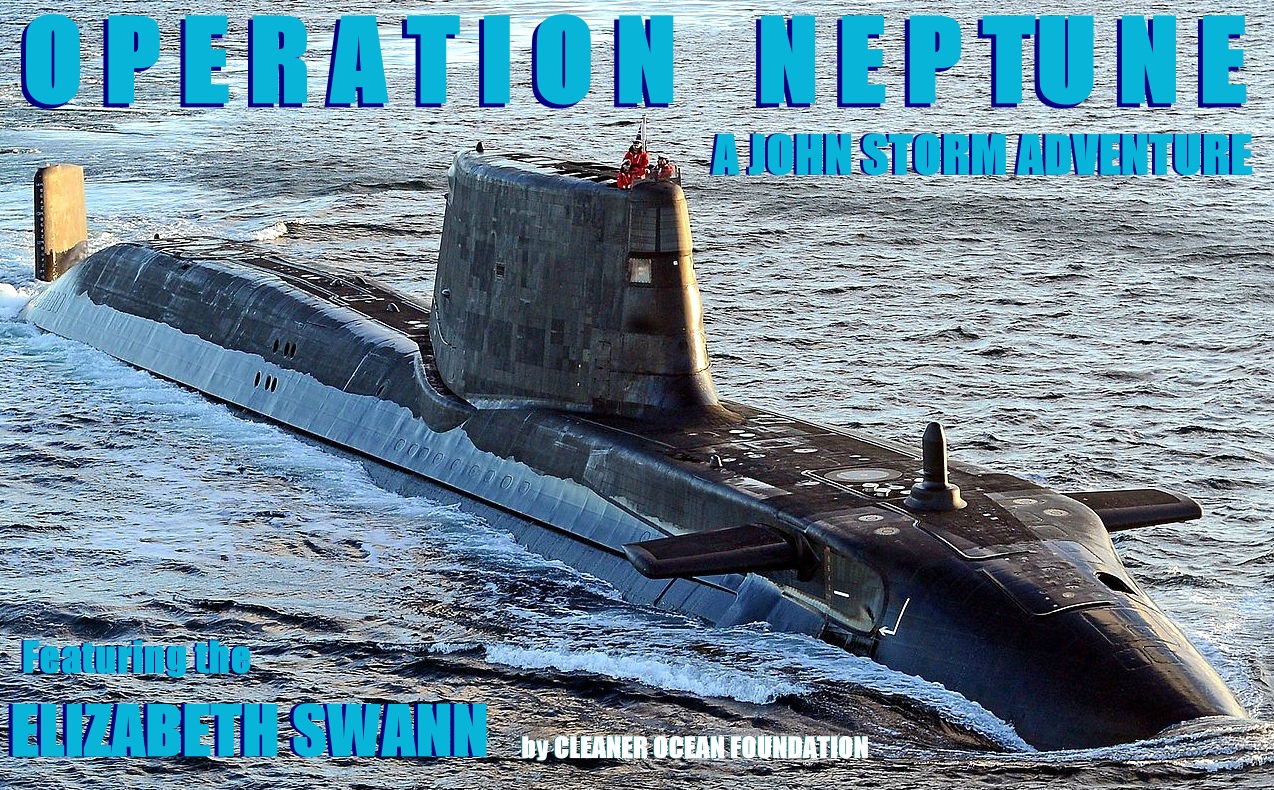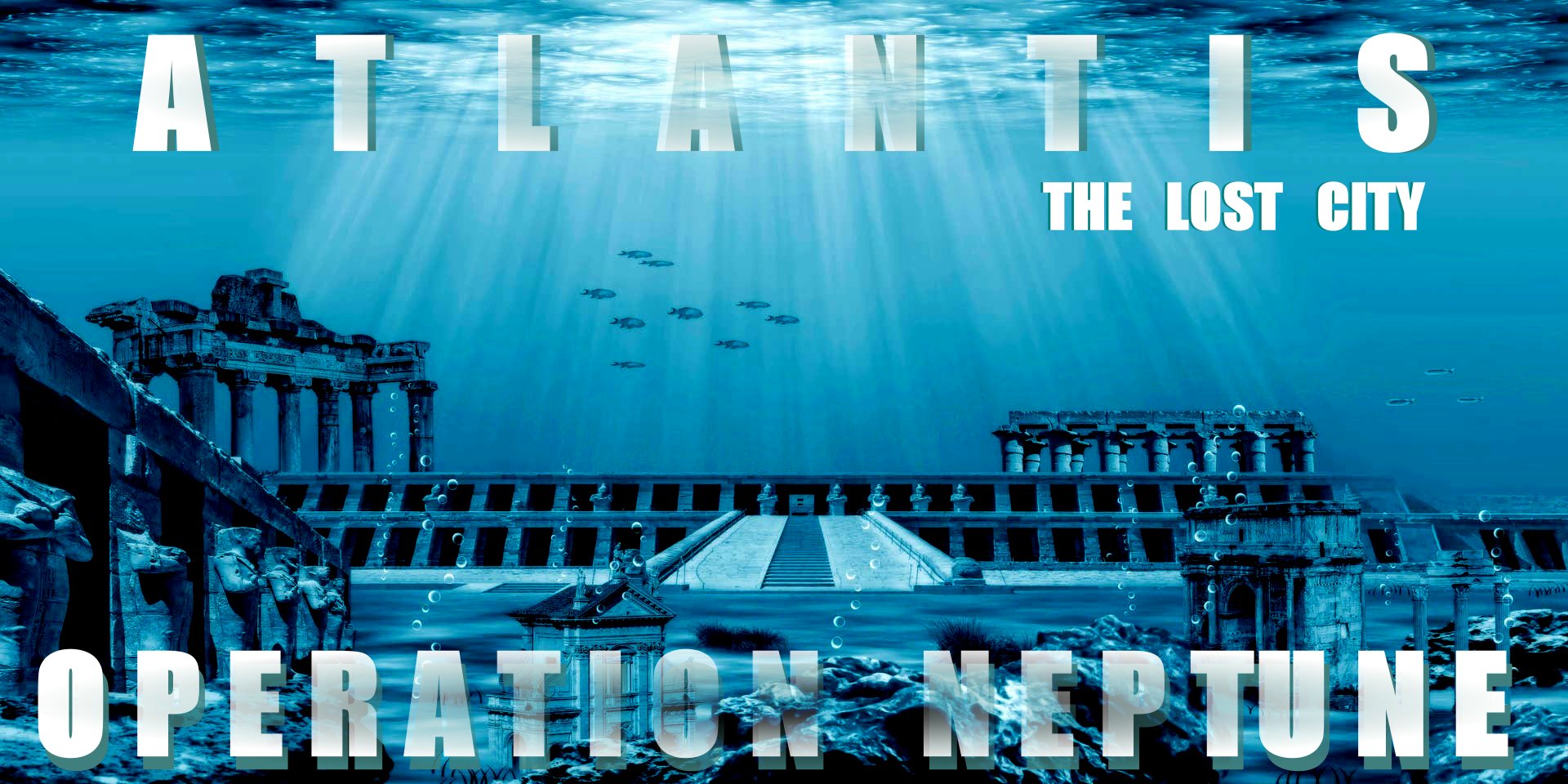 CHARACTERS | GOLD | MEDIA | MOVIES | SCREENPLAY | SUBMARINES
This website is Copyright © Cleaner Oceans Foundation Ltd., May 2023. Asserted as per the Berne Convention.
In this fictional story, the characters and events are the product of the author's imagination.